RadiOdyssee #2: "Erzielkonscht iwwert d'Grenzen eraus"
November 7, 2021 @ 11:00 am
Event Navigation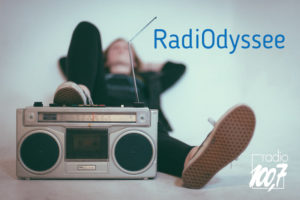 In this second edition of RadiOdyssee, Kerstin Thalau, Valerija Berdi, Luisa Bevilacqua and Betsy Dentzer talk about the situation of narrative art in Europe and the world. What does the art of storytelling look like in other European countries? How and where can one meet colleagues from abroad? Why do you become a storyteller at all? And in which environment do you work?
In addition to the 4 presenters, many other international storytelling voices have their say in this November edition.
RadiOdyssee is a cultural radio programme that links oral literature with everyday life to demonstrate how the art of storytelling is still relevant today. Live storytelling, interviews with experts, informal discussions and in-depth analysis are the focus of this programme, which is hosted by Betsy Dentzer and Luisa Bevilacqua in collaboration with Kerstin Thalau and Valerija Berdi from the cultural editorial staff of 100komma7.
RadiOdyssee is part of the project CONTE-QUEST:
Production:Erzielkonscht a.s.b.l.,
Coproduction: Radio 100komma7,  Les Théâtres de la Ville de Luxembourg
Partner: Service de Coordination de la Ville de Luxembourg
Supported by: Oeuvre Nationale de Secours Grande-Duchesse Charlotte – fonds stART-up, Ministère de la Culture, Fondation Indépendance