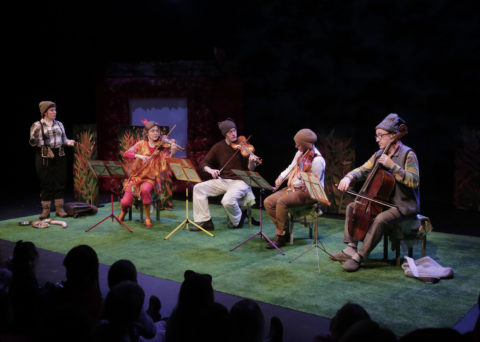 Storytelling, music & acrobatics for children
Length /Duration: +/- 50 minutes
Age: 5+
language: Luxembourgish
further possible languages: English, French, German
more pictures: Facebook
booking: virginiedescharmes@gmail.com (ask for the project papers)
Have a look at our video trailer!
Um Bords vun engem Duerf fale véier Museker sech iwwert d'Féiss.
En Iesel, deen dem gaarschtege Mëller fortgelaf ass a knapps riichtaus kucke kann.
En ale Juegdhond, deen net méi op d'Juegd goe kann. E granzëge Kueder ouni Krallen an e Klepperhong, aus deem soll Zopp gemaach ginn…oder Coq au vin, je nodeems.
Den Iesel, den Hond, d'Granzkaz an d'Hong maache sech op de Wee an en neit Liewen… als Museker, zu Bremen!
Um Wee fir dohinner stouße se allerdéngs op eng Hütt am Bësch, aus där et nawel fatzeg gutt rischt. Just blöd dass eng Hickegt wëll Räiber an der Hütt sëtzt. Wéi kréien se déi lo do eraus fir sech de Bauch voll ze schloen?
Next to a small village, a meeting of four extraordinary musicians: an old donkey, escaping from the nasty miller; a hunting dog too old for hunting, a grumpy clawless cat and a hysterical chicken not wanting to end up in a soup. They unite to search for a better life…as a music band in the City of Bremen!
On their way, they pass to a wooden cabin and …they smell food! Lots of food!
But how can they get rid of the bandits living in that hut?
CAST:
Storytelling: Betsy Dentzer
Violin: Virginie Descharmes
Violin: Benjamin Lescoat
Violin (alto): Wendy Ruymen
Cello: Thomas Luks
Acrobatics: Pietro Gaudioso, Anaël Chaval
Direction, concept: Dan Tanson
Costumes: Alexandra Lichtenberger, Ensemble Lecture-Aventure
Stage: Andrea Sostero, Ensemble Lecture-Aventure
Idea,Concept: Virginie Descharmes
Head of project: Virginie Descharmes
Production: Philharmonie Luxembourg, Festival Artonov, Lecture-Aventure a.s.b.l.
Music from J.Haydn and J.S.Bach
UPCOMING SHOWS:
PAST SHOWS:
Philharmonie de Luxembourg, 5 shows (March 2018)
Kinneksbond Mamer /(L), 3 shows (March 2020)