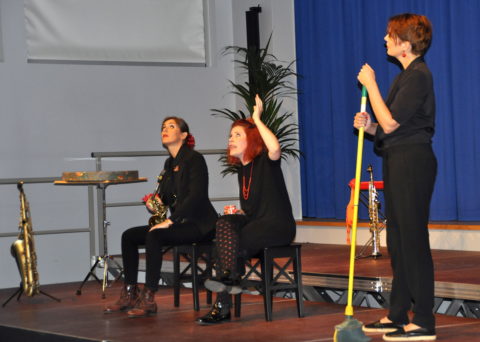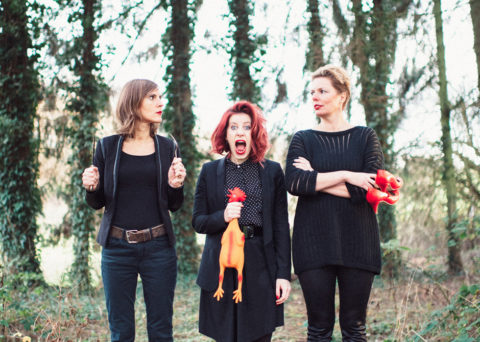 Storytelling and music evening for adults
Year of creation: 2016
Length /Duration: +/- 70 minutes
Age: 14+
language: Luxembourgish
further possible languages: German
more information: Facebook: Weibereien
Booking: info@betsydentzer.lu
Staarker oder schwaacher; där, déi mat zwee Féiss um Buedem stinn oder awer där, déi op Wolleken danzen; där Gewëtzter oder där mat engem Briet virum Kapp, där diskreter oder där mat engem grousse Mondwierk; där, déi jiddereen em de Fanger wéckelen an nach där, déi nees opstinn, wann se mol op d'Nues gefall sinn…
D'Betsy Dentzer, d'Nadine Kauffmann an d'Nancy Schlammes hu sech sproochlech a musikalesch mat deene Weiber ronderëm geschloen, sinn an hier Welte gedaucht an hu se fir Nolauschterer erausgefiizt.
"Weibereien" is a storytelling program about women: strong and weak, loud and discrete, dumb and intelligent, dreamy and realistic women, girls, mothers, sisters, wives.
The duo toneclash composed their music exclusively for these stories and so the three artists interweave words and sound to a humoristic entertainment…not only for women.
CAST:
Concept, storytelling: Betsy Dentzer
Music (composition, play): toneclash (Nadine Kauffmann, saxophone / Nancy Schlammes, percussion)
Production: Service à l'Égalité des Chances Bettembourg,  Service Egalité des Chances entre Hommes et Femmes Dudelange
UPCOMING SHOWS:
2nd April 2020, 20h00: Commune de Reckange-sur-Mess (LU)
9th October 2020: Schungfabrik Tétange (LU)
20th November 2020: Commune de Bissen (LU)
PAST SHOWS:
CCRD opderschmelz (L, 2016), Galerie Maggy Stein, Château de Bettembourg (L, 2016), Klengkonschtfestival Garnich (L, 2017), Kulturhaus Niederanven (L, 2017), Konschtmillen WAX Pétange (L, 2017), ArcA Bertrange (L, 2017), Kinneksbond Mamer (LU, 2019), Théâtre des Capucins (LU, 2019), Lycée technique pour professions éducatives et sociales, Mersch (LU, 2019)